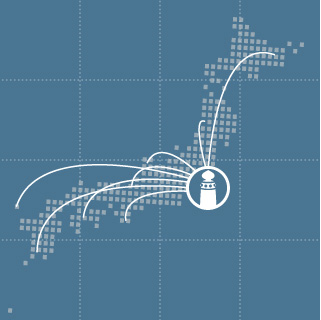 With the start of the Edo period shogunate, Nihonbashi quickly flourished thanks to its location near the castle. Merchants and craftsmen gathered here from around the country, and Nihonbashi, the bridge itself, became a local symbol and the starting point for the five major roads leading into and out of Tokyo. Blessed with numerous canals, it also became a center for the distribution of a wide variety of goods from throughout Japan. Today, while some of the original merchants continue to conduct the businesses passed down to them over the generations, represented by the noren curtains that mark the entrance to their shops, others have become major companies, but through it all, Nihonbashi has continued to grow.

"XX km to Tokyo…" Many of the road signs you see indicating the distance to Tokyo actually show the distance to Nihonbashi.
Tokyo in the Edo period was home to more than a million people, and with Nihonbashi as its vital center, was said to be bigger than Paris or London at the time, truly one of the world's great cities.
In modern Tokyo's Chuo Ward, 21 neighborhoods, including Nihonbashi Honcho and Nihonbashi Muromachi, feature "Nihonbashi" in their names. Along with Yaesu 1-chome, they made up the original 22 neighborhoods of the former Nihonbashi Ward. In 1947, it was merged with the former Kyobashi Ward to create the new Chuo City, but because so many asked that the Nihonbashi name be preserved, it was retained in the names of many of the neighborhoods remaining today.