Merging the Past and Future in Nihonbashi
Nihonbashi, sometimes called the "Venice of the East" by foreign media, is famous for its intricate network of waterways that sustained life in Edo era Tokyo. The future holds promise for water travel in Nihonbashi, too. Efforts are underway to bring back boating between Nihonbashi and other waterside sightseeing destinations in Tokyo. Visitors can catch one of many boats leaving the Nihonbashi Boarding Dock at the base of Nihonbashi Bridge, completed in 2011, for unique views of the district.
The Nihonbashi Boarding Dock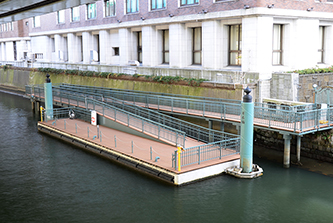 Completed in 2011, this project relinks Nihonbashi and Tokyo's other waterside neighborhoods and has revived water transport that was once vital to life in Edo era Tokyo. In cooperation with other wards across Tokyo, the Nihonbashi district is once again using the old canal and river roads that weave through the city to provide visitors with a truly unique network of sightseeing spots.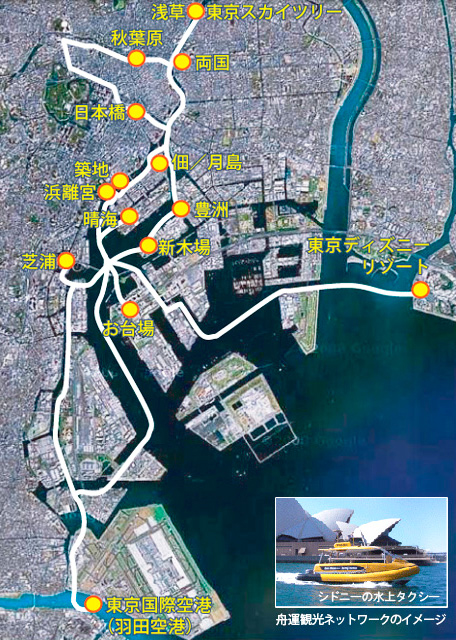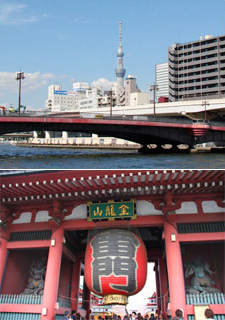 Left: The network of waterways that link sightseeing spots across Tokyo. Courtesy of the Council for the Promotion of Nihonbashi Renewal 8th Nihonbashi Docking Area Study Session.
Top Right: TOKYO SKYTREE®, opened May 2012.
Bottom Right: Sanja Festival 700th Anniversary, May 2012.
The Nihonbashi Bridge Centennial and
the Future of the Bridge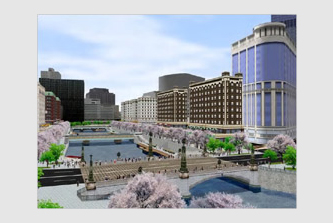 Nihonbashi docking area(completed April 2011)
The Nihonbashi Bridge, designated as one of Japan's important cultural assets, celebrated its 100th anniversary in April 2011. Despite the ongoing efforts to renew the Nihonbashi cityscape, one major problem that has plagued the iconic bridge is the Metropolitan Expressway that stretches over it.

In the rush to prepare for the Tokyo Olympics in 1964, the Metropolitan Expressway made use of the open space over the river that the Nihonbashi Bridge also spans. At the time the Nihonbashi locals supported the project because it was infrastructure that was essential for the Olympics as well as Japan's economic growth. However, the people who live in Nihonbashi feel very strongly about relocating the Metropolitan Expressway in order to return the area to its former scenic glory.
Create
This short computer simulation shows the vision for the future of Nihonbashi, as it regains its spirit from the past and evolves into the future.

*The copyrights for all movies, images, and text belong to the Nihonbashi Renaissance 100th Anniversary Planning Committee and the Committee members. Unauthorized reproduction, reprinting, and reuse are prohibited.